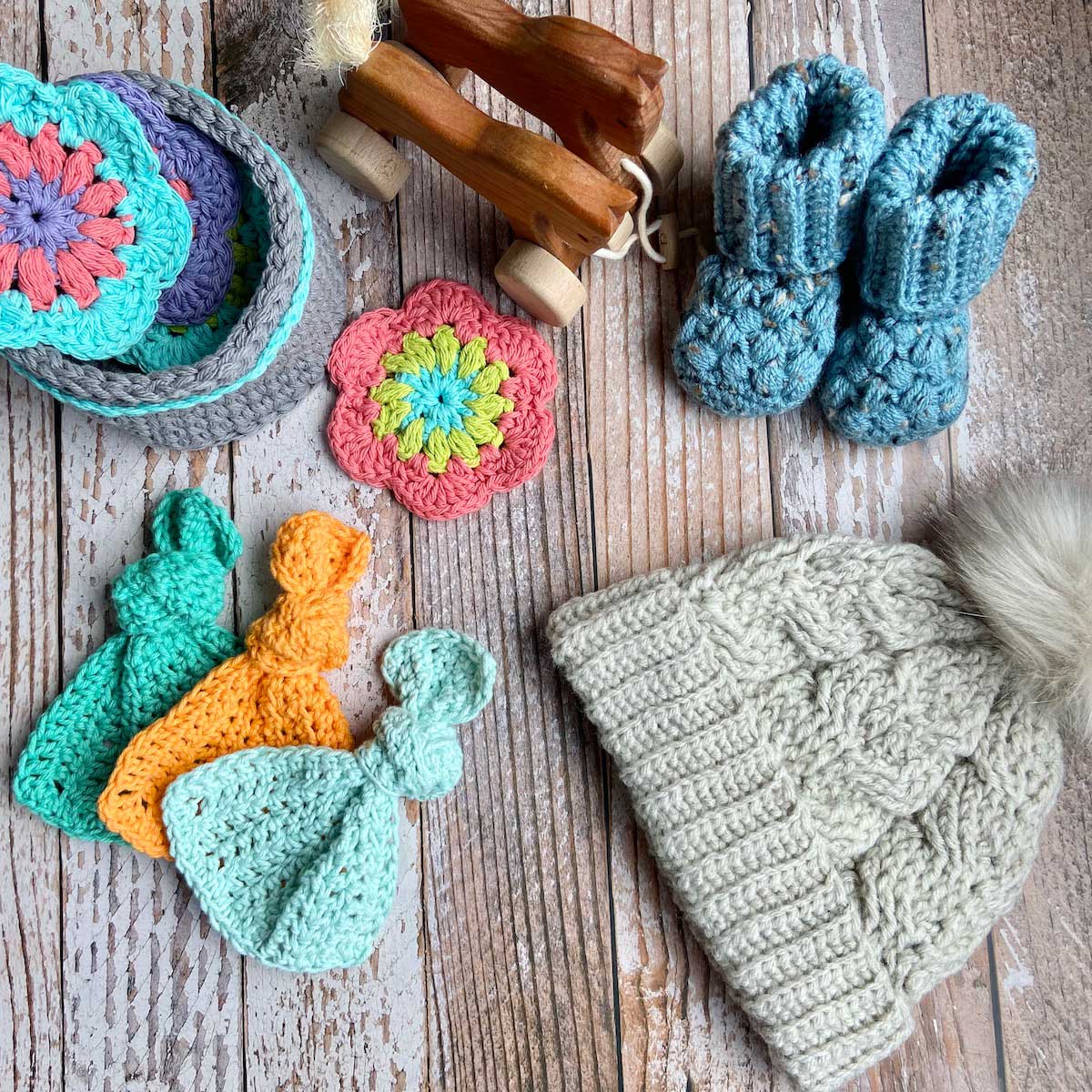 If you've ever been to a baby shower before, you know that handmade gifts are the star of the show! When somebody spends the time to handcraft an item for your baby, you just can't help getting a bit emotional about it. I still get choked up every time I think about all of the treasured handmade gifts that I received when I was pregnant!
One of the most common reasons people pick up the hook for the first time is the desire to make things for a new baby. Crocheting a gift for someone makes you feel connected to the recipient After all, you were thinking of them when you chose the project and throughout the making of it too. The recipient will also be reminded of the maker and how much care went into creating such a special gift.
With this in mind, I've pulled together some of my favorite free baby patterns available here at Creative Crochet Corner so that they would be in one convenient place. And better yet, most of these patterns have free tutorials to show you how it is done!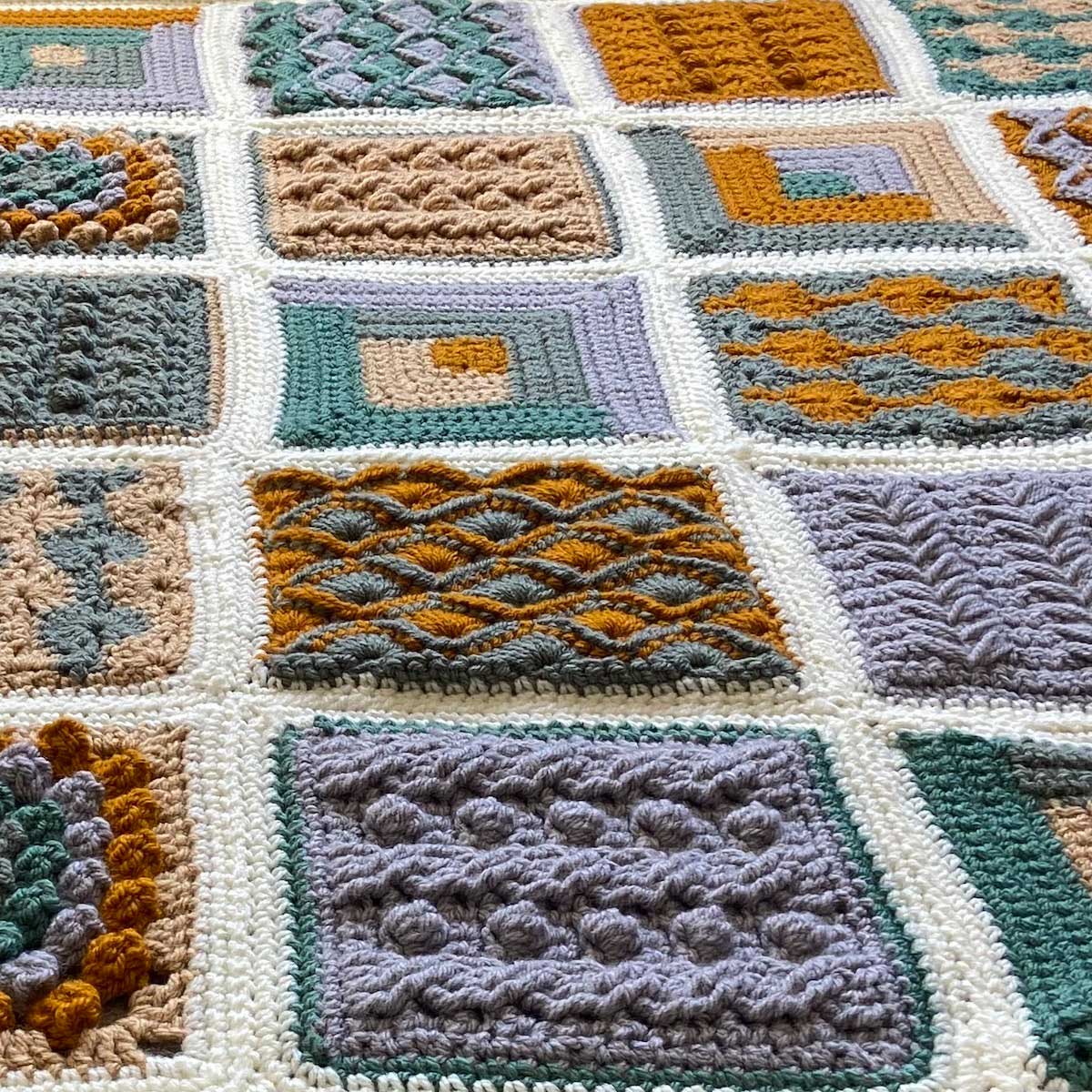 Baby Blankets
Baby blankets are one of the most popular items to crochet for a new arrival. Join our Gallery Throw crochet-along for helpful demonstrations of various techniques while you create a beautiful patchwork throw. If you would like to make the Gallery Throw a bit smaller, you could create 25 squares and arrange them in five rows of five columns for a square blanket, or even 20 squares arranged in four rows of five columns.
Baby Hats
Hats are my go-to project when it comes to crocheting for babies. They are quick, fun to make, and babies look insanely cute in them! We have quite a few hat patterns that are sized for babies, and most of these patterns also include a wide range of sizing to fit adults, just in case you want to do a little family matching!
For a sparkly sequined hat, check out the Celebration Beanie tutorial and free pattern.
If it's the night before the baby shower and you need to whip out a gift, this Eleventh Hour Beanie tutorial and free pattern has got you covered.
For an adorable unisex baby gift, try the Oak Grove Ear Flap Hat tutorial and free pattern.
Learn how to make cables as you create this super cute Glacier Cabled Beanie tutorial and free pattern.
If you are brand-new to crochet or just looking for something simple, check out our 14-Day Learn to Crochet Series for a free tutorial and pattern to make the Elemental Beanie.
I also designed a super cute beanie and booties set that's perfect for gifting. Check out the Baby-Bean Booties tutorial and free pattern, as well as the Baby Bean-ie blog post and free pattern.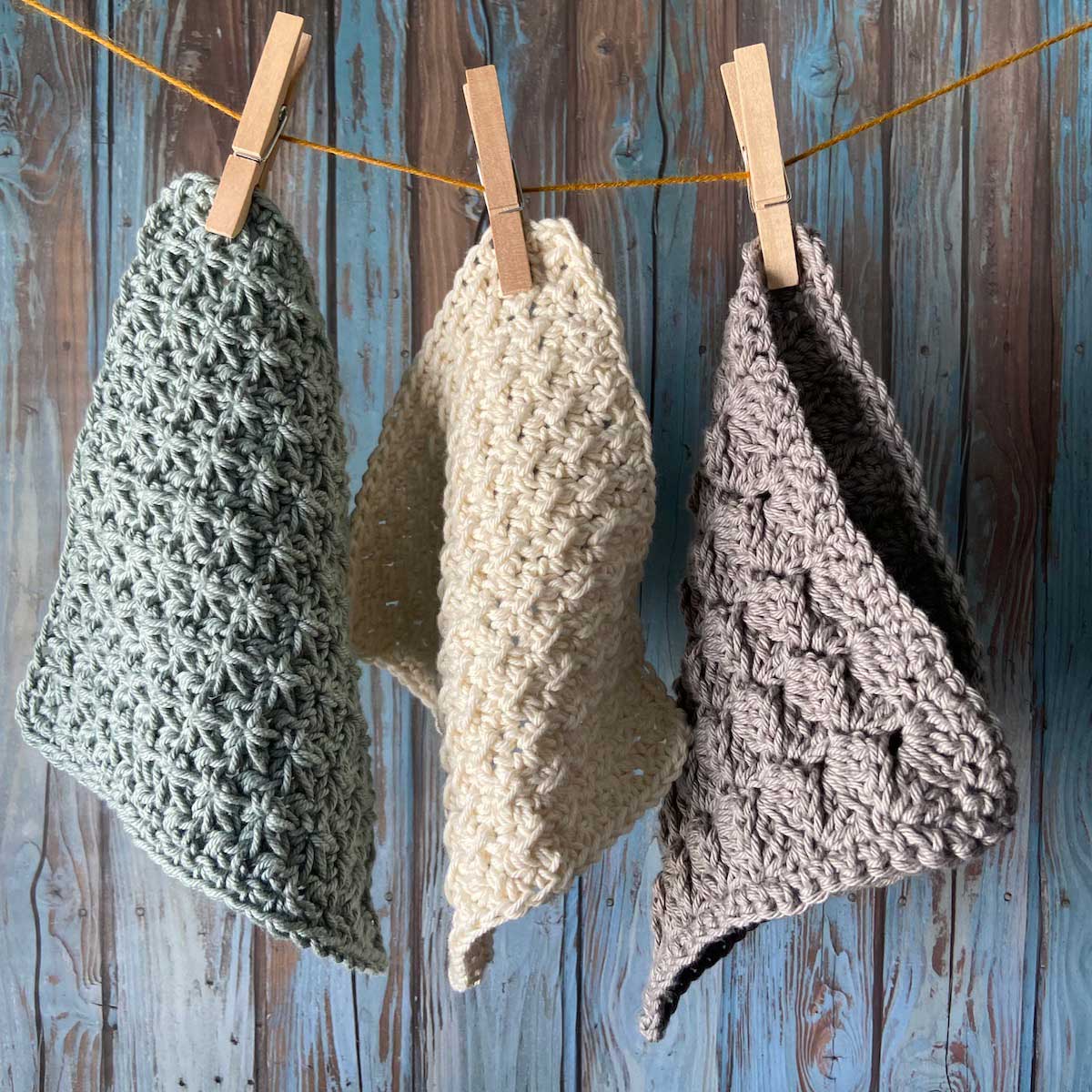 Dishcloths and Washcloths
Let's not forget how messy babies are! I remember being a bit shocked at how many washcloths/dishcloths I suddenly needed to keep up with my messy babies.
Maybe washcloths/dishcloths aren't they type of project that you usually think of for baby shower gifts, but they certainly should be! A collection of washcloths could be gifted along with some baby wash or a rubber duckie—wouldn't that be adorable?
We have a few patterns on our website for washcloths/dishcloths, and the fan-favorite Mini Meadow Washcloth Set even comes with its own storage basket, which is so helpful! You can find the video tutorial here.
If you are new to crochet, check out this Basic Crochet Dishcloth tutorial.
For a collection of various easy stitch patterns, download this free DIY Dishcloth Trio pattern.
Learn how to work in the C2C stitch pattern with the Corner to Corner tutorial and free pattern.
Toys
I remember when my kids were just learning to throw things, they would wave their arms wildly and let go randomly to watch their toy go sailing. That time period made me very thankful that I had some small, soft toys for them to play with.
Be careful when making toys for babies. Do not add safety eyes or small pieces that could come apart and become a choking hazard. We have quite a few amigurumi patterns on the website, but for safety reasons, I'll only list two of our safest ones here.
This simple ball toy tutorial and free pattern is great for beginners. You'll have to be a Creative Crochet Corner member to watch this tutorial, but anyone is able to download the pattern for free. This would be a fun project to make in all of the rainbow colors, to help baby learn color names as they get a little bit older.
We also have this adorable Honey Bunny Honey Bunny tutorial, blog post, and free pattern. If you make this for a baby, you will need to create the eyes with embroidered French knots since safety eyes are a choking hazard. You should also leave the tail off until they get old enough that they no longer put their toys in their mouth. But the great thing about this pattern is that the ears, legs, and body/head are all made in one piece, so you do not need to worry about pieces falling off.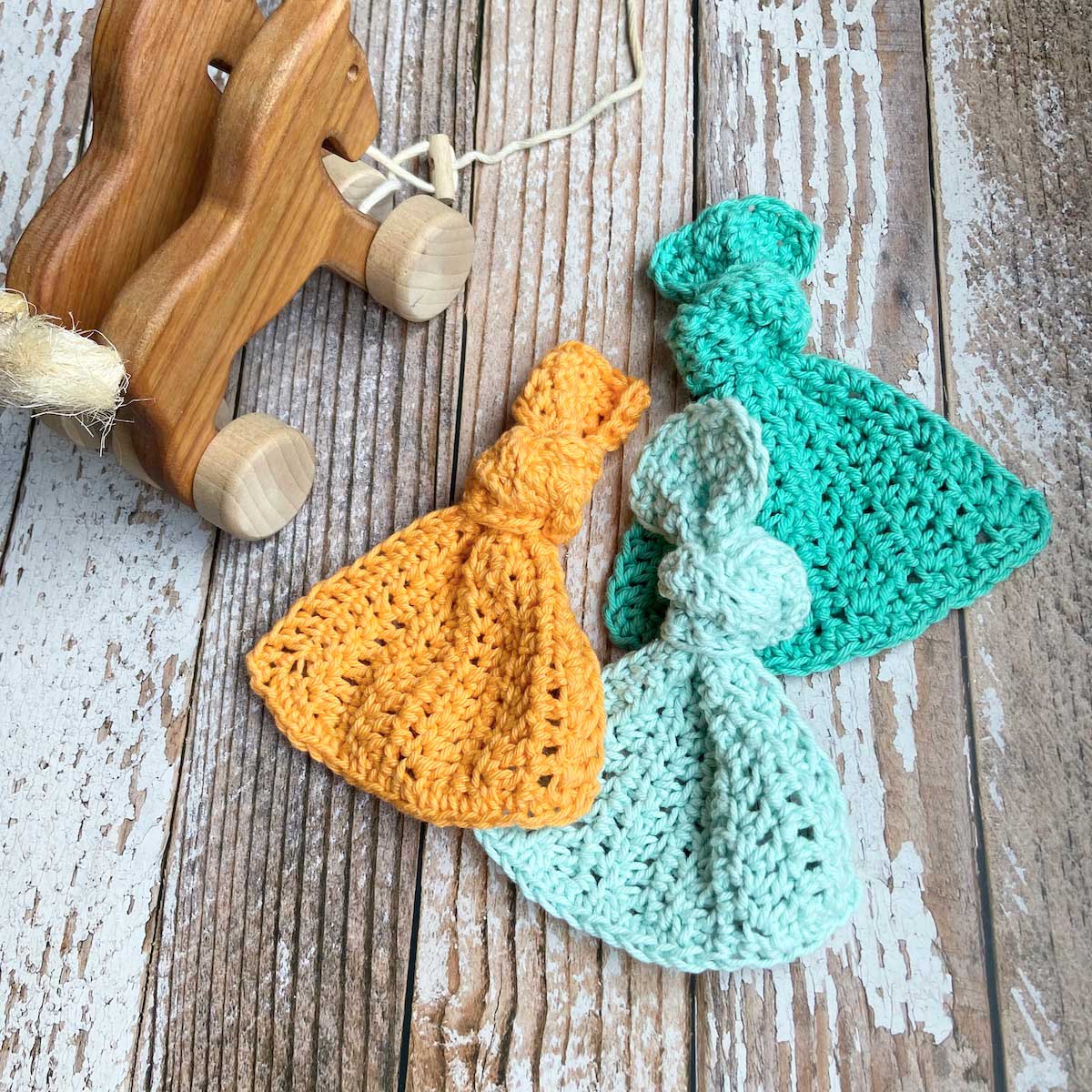 To conclude this list, I've designed a new, incredibly quick baby project—this Easy Knotted Baby Teether!
These crocheted teethers were designed to soothe baby's sore gums. Just tie the top into a knot, then soak the knotted part in water and place the teether in a Ziplock bag in the freezer for about 15-30 minutes until it begins to freeze. Once it's ready, baby can chew away on the knot to get some relief. This project is super simple, so it's perfect for brand-new crocheters, and it makes a fantastic last-minute gift for a baby shower. Download the free pattern here!
Links:
Celebration Beanie tutorial and free pattern
Eleventh Hour Beanie tutorial and free pattern
Oak Grove Ear Flap Hat tutorial and free pattern
Glacier Cabled Beanie tutorial and free pattern
Elemental Beanie/14-Day Learn to Crochet Series
Baby-Bean Booties tutorial and free pattern
Baby Bean-ie blog post and free pattern
Mini Meadow Washcloth Set and free pattern
Basic Crochet Dishcloth tutorial
DIY Dishcloth Trio pattern
Corner to Corner tutorial and free pattern
Ball Toy tutorial and free pattern
Honey Bunny tutorial, blog post, and free pattern
Easy Knotted Baby Teether free pattern