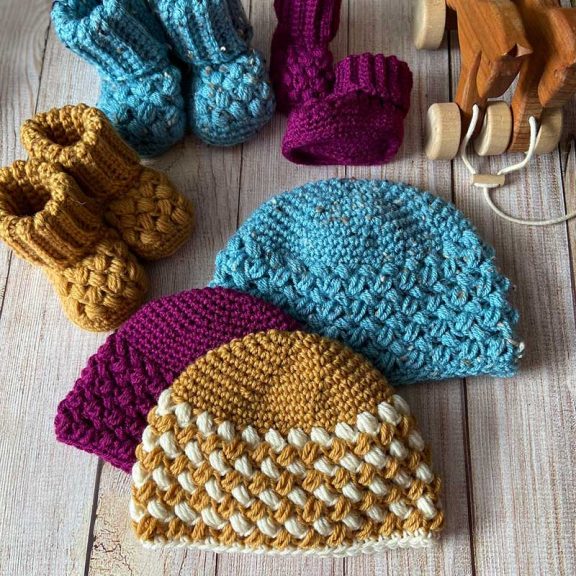 As crafters, when we find out one of our friends or family members is expecting, we can't help but think, "Oooh, what should I make for this new baby?" So, when I found out my neighbor was pregnant, I quickly dug through my stash and whipped up this pair of Baby-Bean Booties! In case you missed it, you can check out the live demonstration and download the free pattern if you find yourself welcoming a new baby too.
I was so excited about how the booties turned out that I decided to create this Baby Bean-ie to make it a matching set. The Baby Bean-ie pattern begins with simple single crochet worked in the round, then switches to the same fun bean stitch pattern that graced the top of the booties. The bean stitch needs to be worked in turned rows in order to achieve that woven jellybean appearance, so the remainder of the hat is worked in turned rows and then seamed.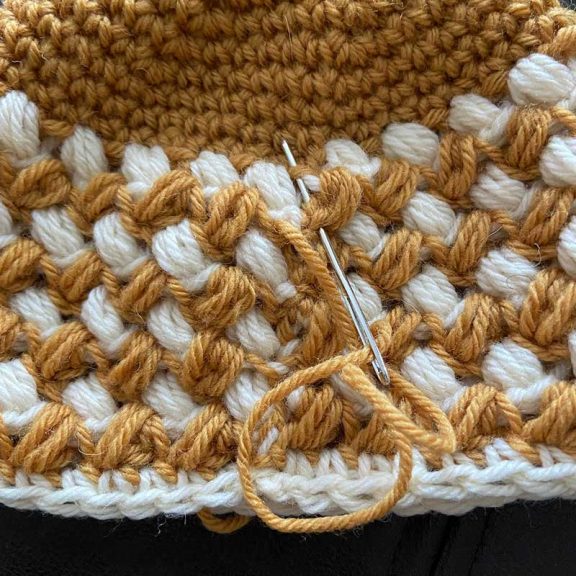 As I worked away at the matching beanies, I had two challenges:
Challenge #1: I had made the booties with three different thicknesses of yarn and different hook sizes, to achieve three different bootie sizes using the same set of directions. So, I needed to do the same for the beanie so that the beanies could match the booties (using the same yarn) for the same size baby.
I was mostly successful using the same approach for the beanie, except for the smallest size—it was just turning out too small using the same sport yarn that I used for the booties! In order to be able to use the same yarn, I had to add some extra increases in order to make the hat large enough to fit the newborn–three-month size. Problem solved!
Challenge #2: I realized midway through the construction of the gold beanie that I was going to run out of yarn. So frustrating! But I needed to complete the collection somehow. I did have some yarn (same brand, same weight) in a contrasting color that I could use, so I did a little experimenting and realized that the bean stitch looks amazing in a two-color stripe—happy accident! I was able to finish the hat after all! This addition to the pattern will make this project even more stash-friendly.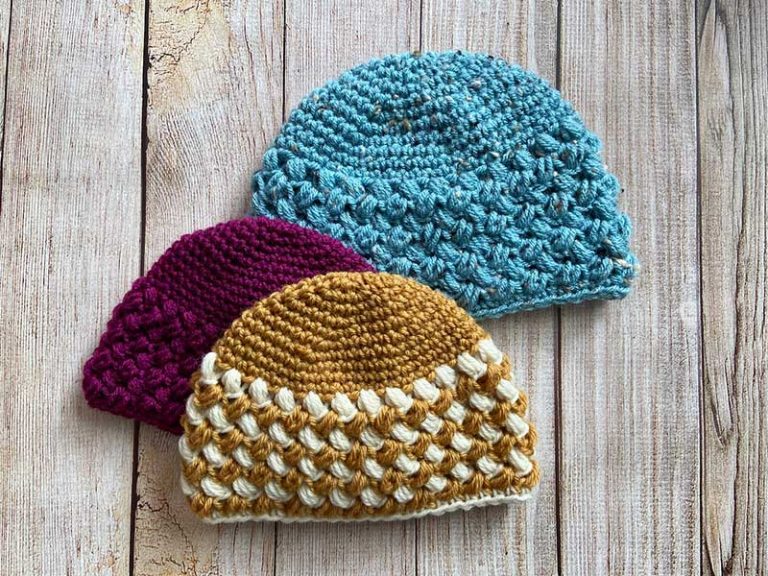 Download the Baby Bean-ie pattern here and the Baby-Bean Booties here to make your own set! Also, make sure you watch the recap of the live demonstration for the Baby-Bean Booties to see how to make the bean stitch.
Are you working on some other baby-related projects? Be sure to let us know in the comments section below!