Fall really is one of the best seasons—the crunch of leaves underfoot, the warm-sun-but-cool-air feeling that only comes this time of year, the smell of cinnamon while cozied up with a good book. There's not much that adds more fall feeling to the home than some adorable pumpkin-themed decor, so why not whip up your own personal pumpkin patch?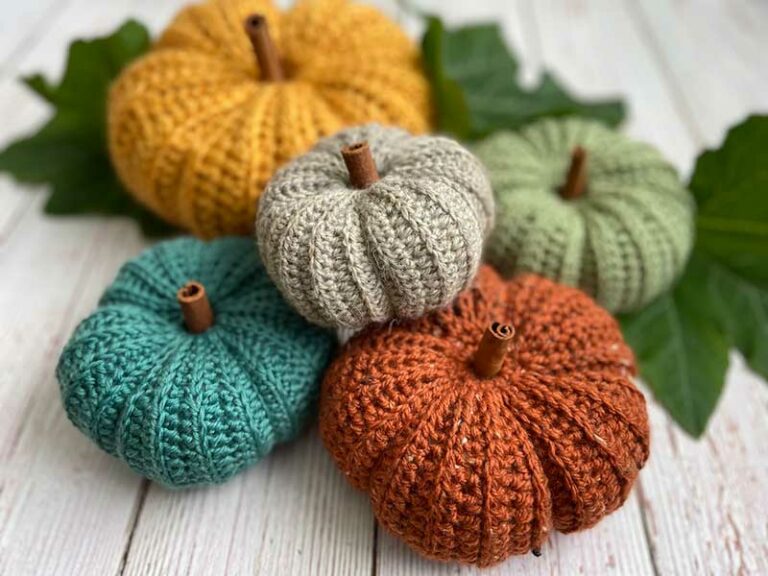 After finishing the first one, you won't want to stop! If you have a lot of leftover skeins of yarn from various projects, this is the perfect project for you. Since pumpkins and squash come in lots of different sizes and colors, any yarn weight or color will do. They also don't require very much yarn, which is great if you have partial skeins.
The reason they are so addictive is because they are so easy—no increases or decreases, just two rectangles using half-double crochet and a bit of yarn-over slip stitch, an easy variation of the slip stitch. You will need to know how to work into the back loop of a stitch, so check out our helpful video if you're not sure how. If you are looking for a video demonstrating the yarn-over slip stitch, you can watch my tutorial for the Glacier Cabled Beanie to see how it's done.
These pumpkins come together really quickly, so you can easily make one between sips of apple cider, while watching your favorite fall movie, or curled up on the couch with some background music. And the best part? To make the stem, you'll simply slide a cinnamon stick into the hollow tube at the center of your pumpkin and voilà! No fussy stem-making!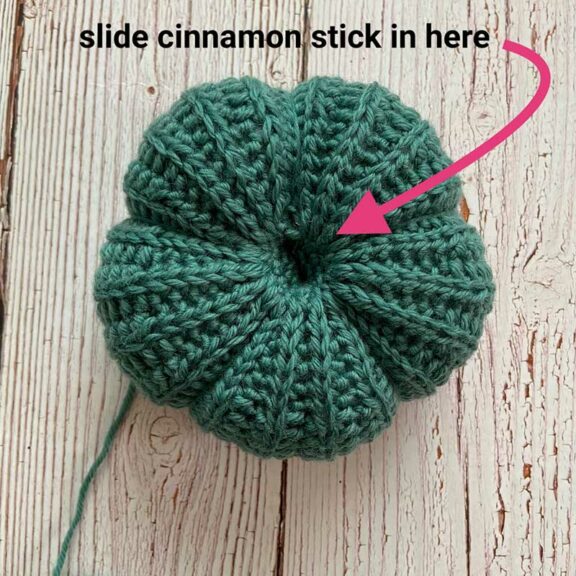 Not only does it make things that much easier, it also makes the room smell super cozy. Because the stem doesn't need to be glued in place, you can even switch them out for a fresh one if your cinnamon stem goes a little stale.
Get into the fall spirit and download the free pattern to start making a pumpkin patch for your own home. What's your favorite way to celebrate fall with crochet? Leave a comment and share with us in the box below.