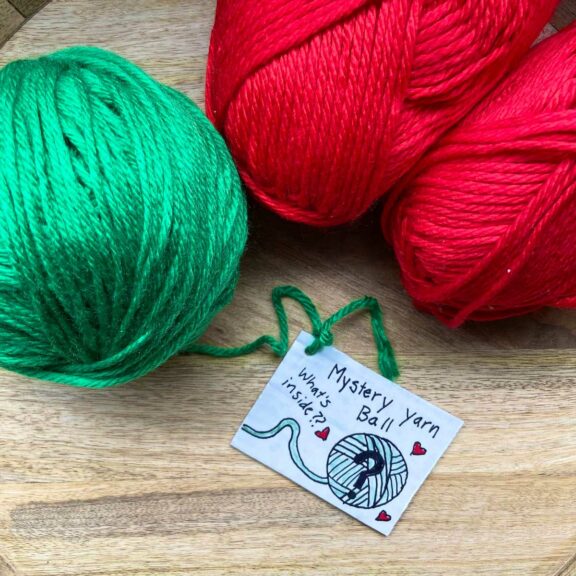 Looking for a quick gift for your yarn-loving friends? Look no further! This Mystery Yarn Ball is not only quick and easy to make, but it's also so much fun! As the lucky recipient crochets away, small presents are revealed, one-by-one. All it takes are some thoughtfully selected notions, two skeins of yarn, and a little cardboard or paper tag to hint at what is inside.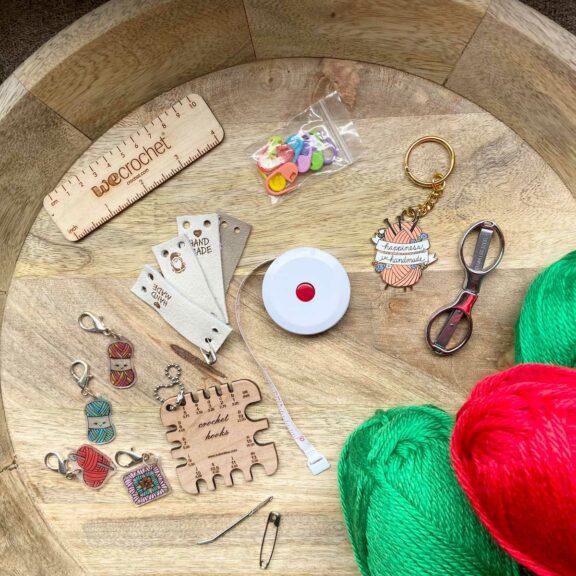 Here are some ideas for what to include:
• Stitch markers: These can be practical basic markers or fancy ones! Etsy has some really fun markers, or you can make your own!
• Retractable measuring tapes or small rulers
• Hook size tool or other helpful mini tools
• Yarn needles
• Crochet-related keychains, charms, or yarn guide rings
• Leather or fabric tags or labels: You can buy these at your local craft store, or you can purchase personalized labels on Etsy or Amazon. You can even make your own!
• Keep in mind that you can also include things that are not yarn-related such as gift cards, recipes, jewelry, or even strips of paper with good advice or heartfelt wishes.
Of course, you'll need to choose the yarn as well. Here are some things to consider when choosing the yarn:
• Choose a yarn without too much texture. Because you are going to be wrapping up some irregular shaped items, there is a possibility of snagging the yarn if it is not fairly smooth.
• The larger your items, the more yarn you will need in order to hide them. Two skeins should be enough to cover most notions (like the ones shown in the photos) if using a worsted weight or chunky yarn.
• If you are using a super bulky weight yarn, you will likely need more than two skeins because there are usually fewer yards per skein. Alternatively, if you are using a thinner yarn (such as a sock weight yarn) you are going to need to wrap many more times in order to cover the gifts inside, so you will likely need more than two skeins here as well. If you need to learn more about different yarn weights, click here.
• You can always use more than one kind of yarn. It doesn't need to be all the same color either—that would be an extra surprise!
Here is how to do it:
Begin by wrapping the yarn around the largest item. Wrap several times in one direction, and then switch directions to keep the object in place. Wrap until you can no longer see the object. (If you are wrapping something very large, it's okay to still see parts of the object—you just want enough wrapped so that it is still a surprise.)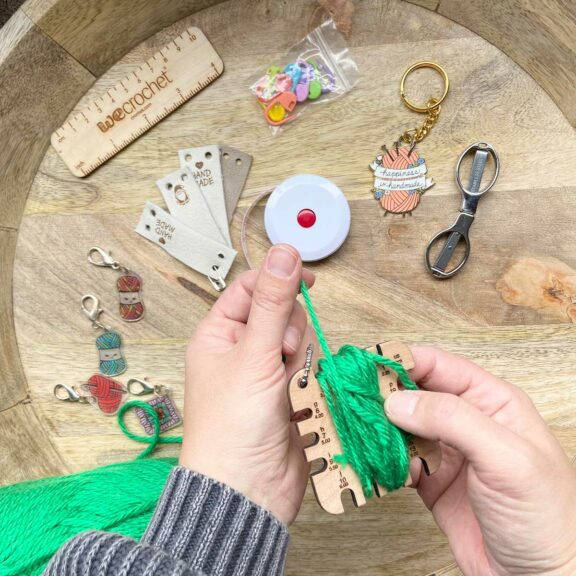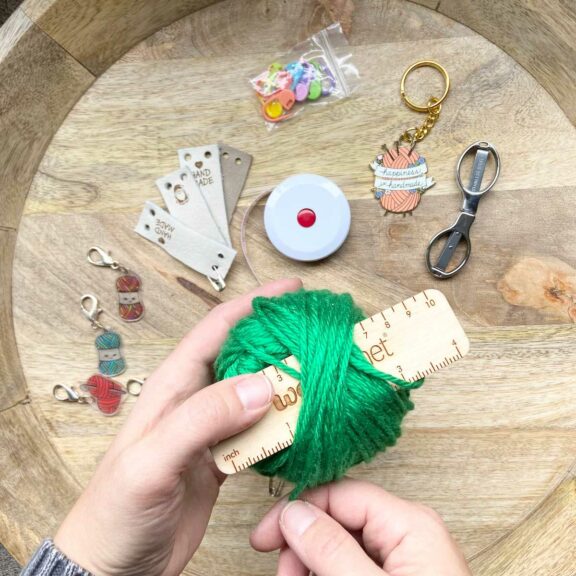 If all of your objects are similar in size, you don't need to worry about the order in which they get wrapped, but if some are quite a bit larger than others, wrap them large ones first. Add the next object and continue wrapping. To keep the objects from slipping out, change directions frequently when wrapping the yarn around them. Continue adding each item after the previous item is mostly covered with yarn.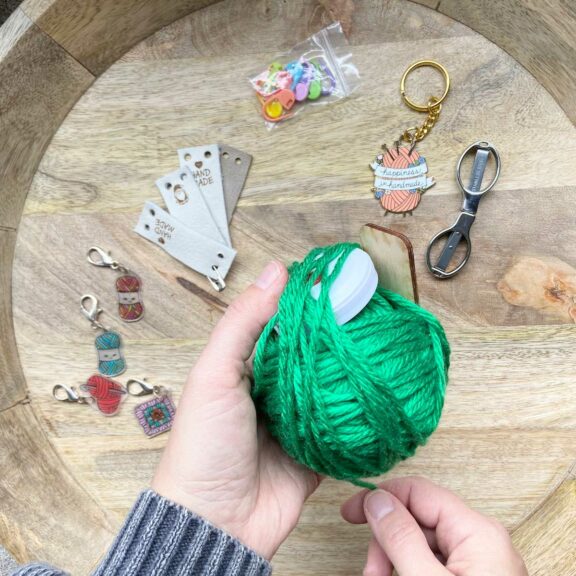 If you are adding a yarn needle, or other very small items that may fall out unnoticed when the ball is unwound, be sure to either use a safety pin to attach them around the yarn strand, or tape the item to a piece of paper so that it will be noticed as it falls out. Stitch markers can be fastened around the yarn strand to keep them from getting lost.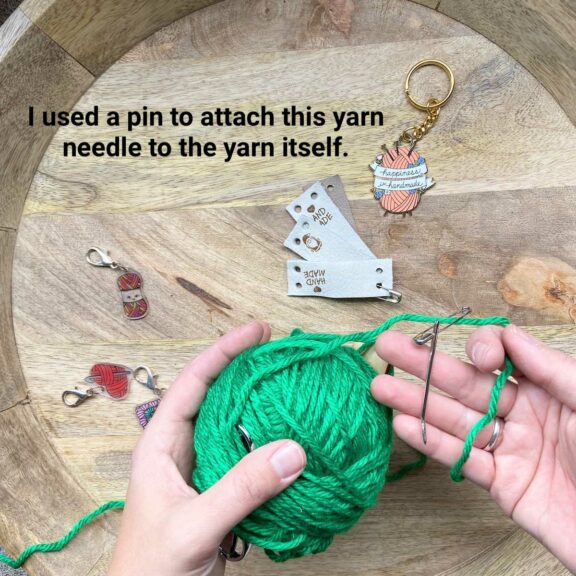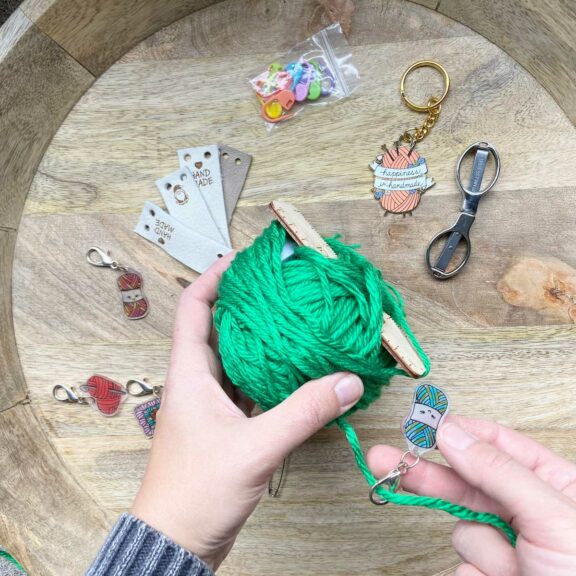 Make sure that you have enough yarn to completely cover all of the gifts after the last gift has been added to the ball. If you feel that you might run out of yarn, you can certainly add more than one item at a time so that they will all get covered.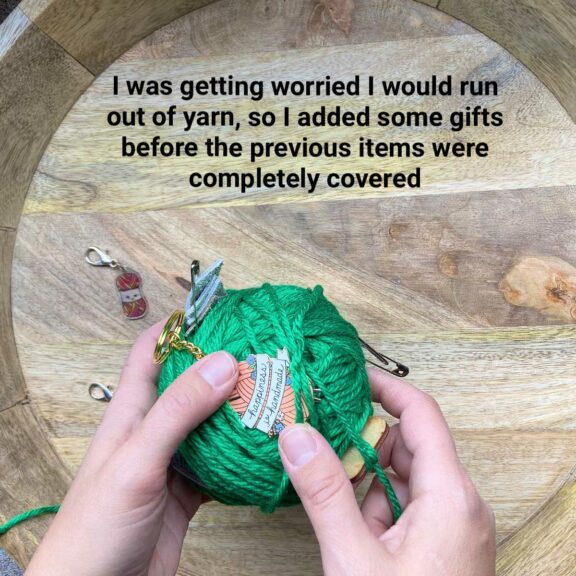 After all of your items have been incorporated into the yarn ball, make a small tag or card hinting at the contents of the yarn ball, and tie it to the yarn tail end. You can gift-wrap the finished yarn ball, or you can just put a ribbon or bow right on the card/tag. After all, the yarn ball is the wrapping paper!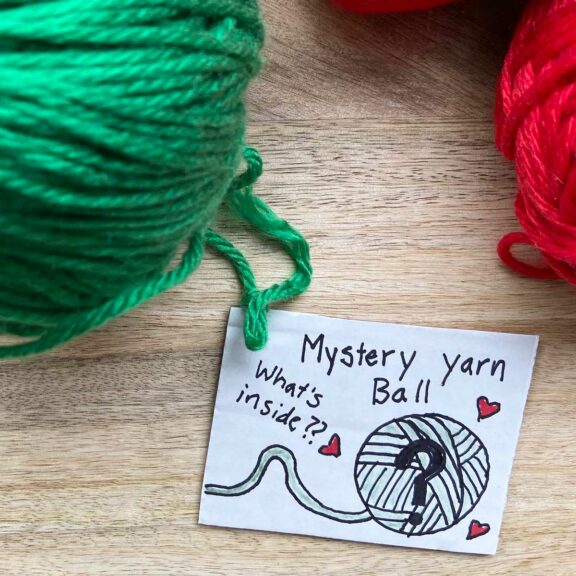 Additional things to consider:
Think twice about wrapping up any candy. If you choose to do this, you should package it in a tightly sealed Ziploc bag with all of the air pressed out to make sure it does not make the yarn sticky or stained.
If budget allows, gifting the Mystery Yarn Ball along with a yarn bowl would be a wonderful idea! Because you cannot make a center-pull ball, the yarn will need to unwind from the outside of the yarn ball, which will cause the ball to roll around as it is being un-wound. A yarn bowl will keep the Mystery Yarn Ball from rolling across the floor and it will also catch any of the little gifts that fall out as it is being un-wound. Or, check out an alternative for a yarn-bowl in this video!
Another great idea for gifting this Mystery Yarn Ball is to package it along with a printed copy of your favorite Creative Crochet Corner pattern! There is a large selection of free patterns that can be downloaded for free on the website! If you choose a pattern that uses the same yarn weight and yardage as the yarn you are gifting, then the recipient can get started "unwrapping their gift" right away!
Happy gifting!