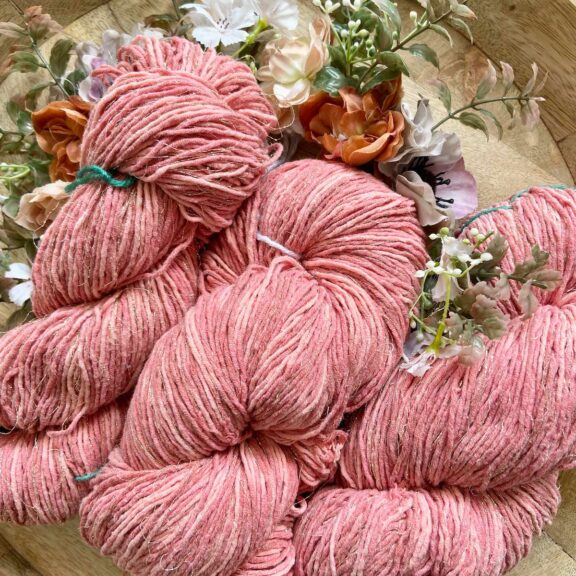 One of the best ways to be kind to the environment is to repurpose the materials we already have instead of purchasing new ones. As crocheters, we are able to do this in many ways: frogging old projects and using the yarn in a new project, using up yarn scraps, creating our own "yarn" out of things that would end up in a landfill such as fabric scraps, old T-shirts, or plarn ("yarn" made from plastic bags). Check out this awesome plarn tote bag we did with our friends at Craftsy!
Another way to repurpose old materials is to rescue old sweaters from the thrift store and take them apart to use the yarn for something new. I love doing this because it not only makes me feel good about keeping things from going into a landfill, but also because it is so inexpensive for a truly unique batch of yarn!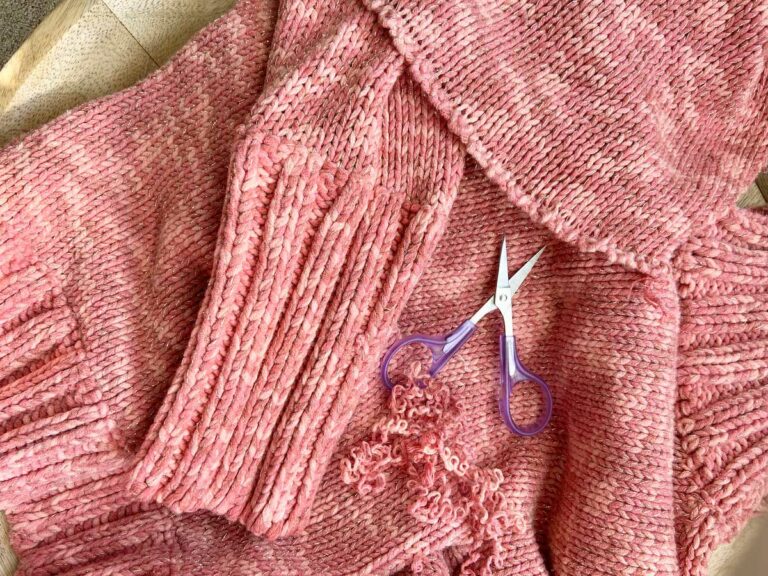 Here are some helpful tips for repurposing thrifted sweaters:
Go shopping in the section for the largest sizes—this is where you'll get the most bang for your buck.
Check the labels to see if you like the fiber content, and look over the sweater to evaluate the condition of the yarn. If there are small stains or holes, it's no big deal! You can just omit these sections when you unravel the sweater. However, steer clear of sweaters that have been felted, as even slightly felted sweaters will be nearly impossible to unravel.
Think about the thickness of the yarn. Many commercially made sweaters are made with very thin yarn, much thinner than what you might normally use in a crocheted project, so you might want to skip these.
Another very important thing to watch for is how the seams inside the sweater look. If they have been serged (see image below), the yarn will come apart into a bajillion short strips instead of one long piece when unraveled. This is because the knitted fabric has been cut and bound off with thread so that the edges do not fall apart. Instead, you'll want to look for sweaters with seams that have not been serged.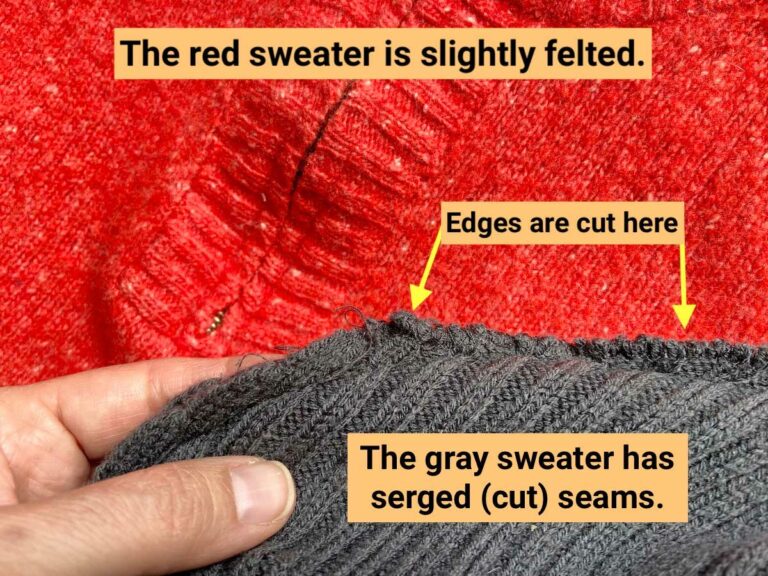 After selecting your sweater, you'll need to separate all of the pieces before you can unravel anything. If you're lucky, your sweater has been stitched together with a chain stitch as shown in the photos below (this seems to be fairly common). If you clip the chain and unravel it just a bit, you can pull on a strand and it will pull apart easily, just like unravelling a crochet chain. You can probably imagine how satisfying that is! If you're having trouble getting it to "unzip," you are probably starting at the wrong end of the chain. Begin at the end of the chain where the top part of the V is.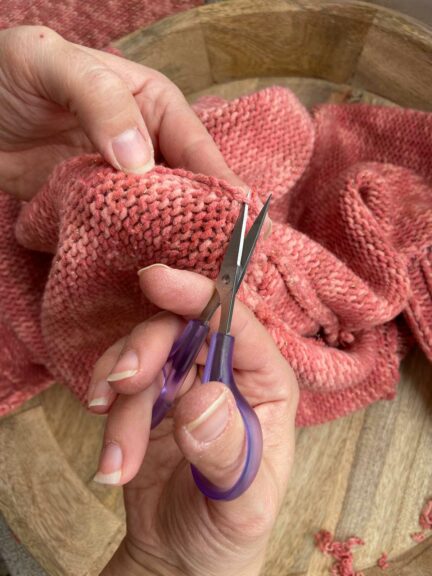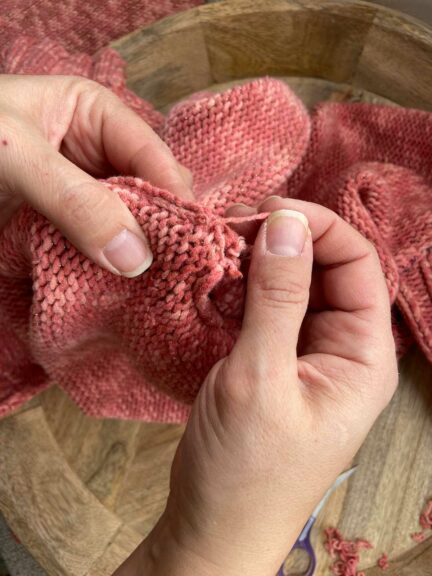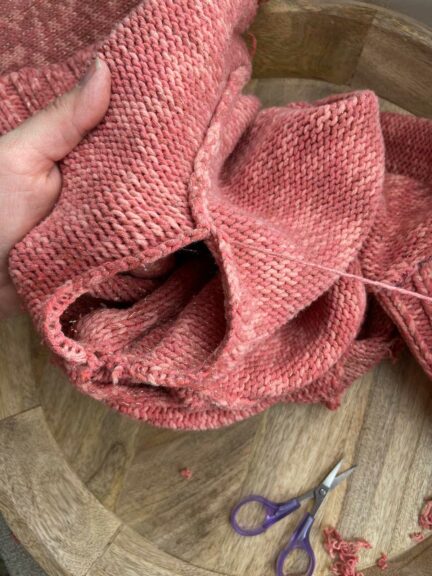 Once the pieces are separated, you can begin unravelling the sweater. Make a ball of yarn as the pieces are unraveled. It's okay to cut the yarn to start a new ball if the original ball of yarn gets too large to hold onto.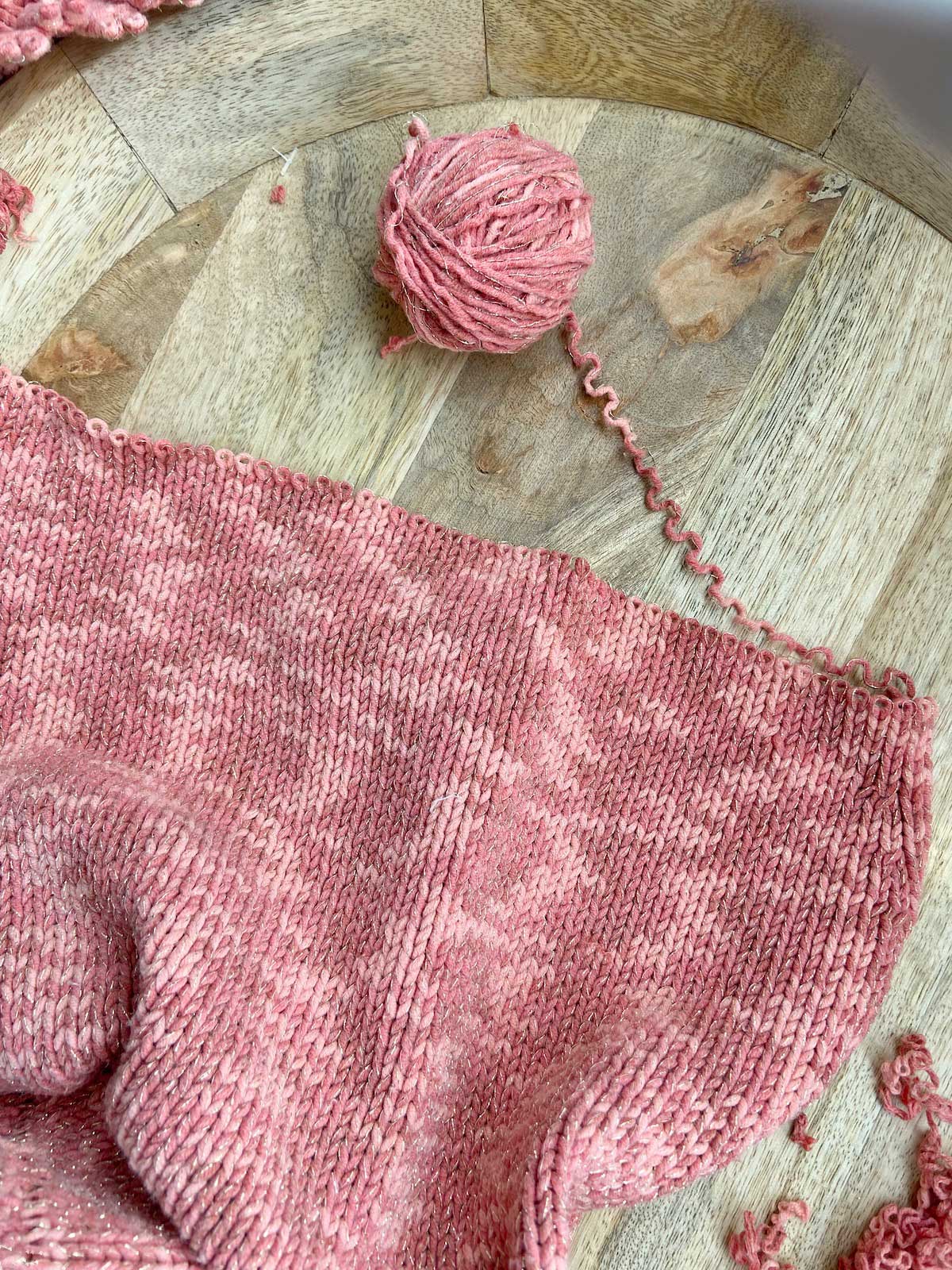 After unraveling all of the pieces, your yarn will be very kinked. You can smooth out the kinks in a couple of ways, but first you'll need to wind the yarn up into large loops (like how the yarn is wound when it comes in a hank).
If you happen to have a swift, you can wind the yarn onto the swift, but if you don't have one of these, you can wind the yarn onto a very large kitchen stock pot. I flip mine upside down so that the handles keep the yarn from sliding downward. You can also use the back of a chair or even your knees.
Then you can use some shorter pieces of contrasting scrap yarn to tie the loops in about three places to discourage the yarn form getting tangled.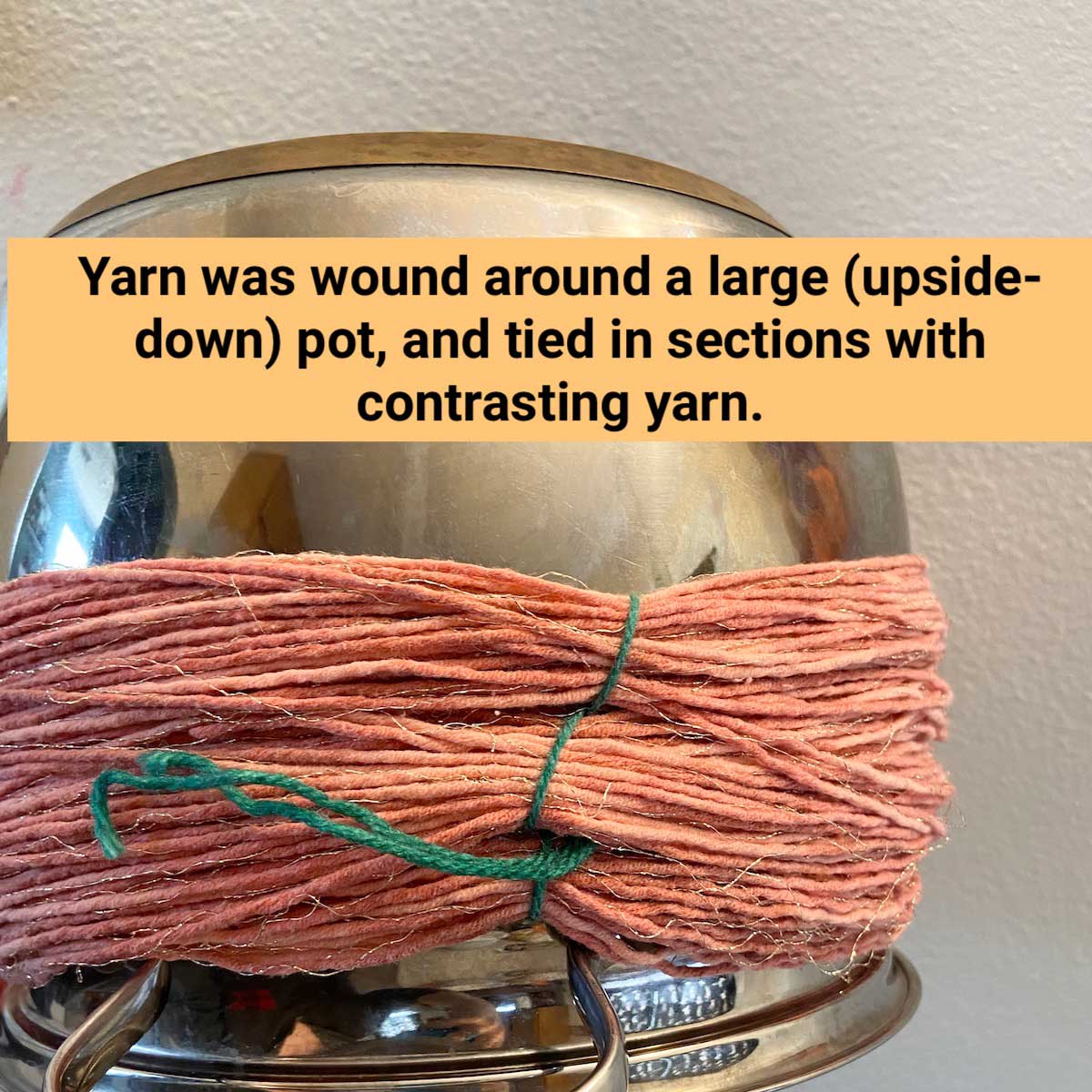 Once your yarn is tied, you can remove the loop from the swift, pot, or chair. If it is a natural fiber such as wool or cotton, you can just soak it in water, then pull it out and let it drip-dry over a hanger. If your yarn is a synthetic fiber and wetting it doesn't work to remove the kinks, you can drape it around the end of an ironing board and steam it with an iron. Do not touch the yarn with the iron, but instead just hover it above the yarn, using as much steam as possible. Alternatively, if you have a handheld steamer, you can just keep the loop of yarn hanging over a hanger while you steam it to release the unwanted texture.
My sweater produced four very large skeins of yarn. For less than five dollars total, that's a true bargain! Now I'm off to figure out what I want to make it into. Happy thrifting, everybody!
If you have any tips for repurposing materials in your projects, please share with us in the comments below!